Former Goodyear Farms Operations Facility Fact Sheet
Litchfield Road at Wigwam Boulevard
March 5, 2002
This fact sheet has been prepared to provide information to the communities of Goodyear and Litchfield Park regarding the Former Goodyear Farms Operations Facility located at the southwest corner of Litchfield Road and Wigwam Boulevard.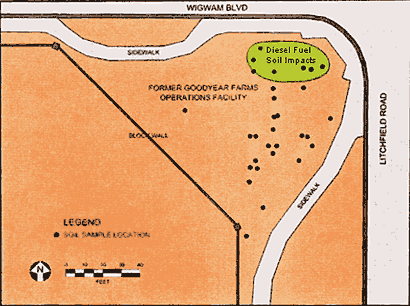 History
The area surrounding the communities of Litchfield Park and the northern portion of the City of Goodyear was owned and operated by Goodyear Farms for the cultivation of cotton from the mid 1940's through the mid 1980's. During this period, over 10,000 acres of land in the area was used for cotton production and it's related support activities that included farm implement fueling and maintenance.
The Former Goodyear Farms Operations Facility, located on the southwestern corner of Litchfield Road and Wigwam Boulevard was a small, centrally located facility used by Goodyear Farms primarily for the fueling of farm vehicles and equipment. This facility contained three fuel tanks to support the fueling operations, including two aboveground diesel fuel tanks and a single gasoline underground storage tank which were located very near the corner of the parcel. Vehicles reportedly pulled off Litchfield Road, took on fuel, then exited onto Wigwam Boulevard (Then Indian School Road).
In the mid 1980's, Goodyear Farms began to scale down farming operations. Part of this reduction in operations included the sale and redevelopment process, the Goodyear Farm Operations facilities were reviewed for potential environmental issues and closure is being sought with the appropriate regulatory agencies.
Facility Closure Activities
In August 1988, prior to the sale of the Former Goodyear Farms Operations Facility, the fueling systems and tanks were removed under the direction of an Arizona-licensed contractor . As part of the tank removal, soil samples were collected to evaluate if fuel impacts were present. No impacts were found related to the underground gasoline storage tank. An area of diesel fuel impacts in soil was found in the extreme northeast corner of the parcel-reportedly related to a leaky filling nozzle. (See Figure). Supplemental subsurface soil investigations were performed in 1989 and 1992 and the data was provided to the Arizona Department of Environmental Quality (ADEQ) in 1993. Additional soil sampling was conducted in 2001. To date, over 250 soil samples have been collected to define the area of diesel fuel impact (See Figure). These impacts are present from approximately 20 to 90 feet below ground surface. Groundwater is over 125 feet deep.
In 1994, clean-up activities commenced through the implementation of bioventing, a process that uses the naturally occurring microorganisms to breakdown the diesel fuel in soil by injecting air. These operations continued until 2000 when site redevelopment commenced.
Current Activities
Clean-up activities have reduced the diesel fuel impacts in soil so that ADEQ may consider site closure. The Goodyear Tire & Rubber Company is proactively working with ADEQ to obtain a final site closure in 2002. Once site closure is granted, landscaping can be completed and the property may be transferred to the City of Goodyear for maintenance of the sidewalks and traffic light control facilities.
In summary:
Three fuel tanks were removed in 1988
Over 250 soil samples collected
Diesel fuel soil impacts have been delineated
Over 6 years of soil clean-up completed
Completing closure evaluation with ADEQ
Coordinating completion of landscaping
If you have any questions, please contact Donna Jennings with The Goodyear Tire & Rubber Company at 1-(330) 796-2490.